Well, here it is, folks...my last wedding of the year! Alison and Adam were married on a mild November day (lucky us!) out in Eureka. They had a fun-filled wedding that was perfect to wrap up my season of shooting!
Chantel hung out with the guys; Alison bought Adam some super cool cuff links...you'll see the mustache theme carried over later...
I guess Adam got TWO gifts! Lucky guy :)
I love the bottom two shots in this collage. Chantel was upstairs, I was down, and we caught the same moment of Alison's dad seeing her in her dress...pretty cool.
Then we headed out to Greensfelder(?) State Park for some photos. All the leaves had fallen by this point, but it was still gorgeous out.
I just LOVE the light here.
The many faces of Adam...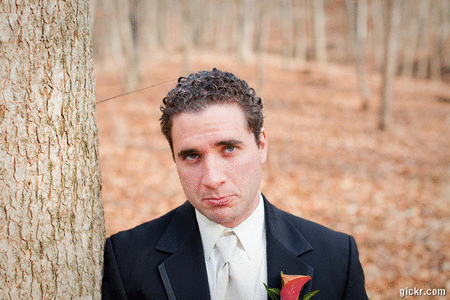 Make your own animation
Then we headed into Eureka, someplace I've never been. We quickly found a few fun spots for photos.
...and these photos were taken right outside the Holiday Inn as the sun was leaving us...
my fave of the day.
Their ceremony was very personalized, and included a melding of different traditions...
Chantel caught Alison's mom giving the "thumbs up" to Adam's parents...Love it!
Along with the photobooth came mustaches. Lots AND LOTS of mustaches. I just had to make a mustache collage.
At the end of the night their name was made out of pretzels. That's a lot of letters....and pretzels.
Thanks to Chantel Sutberry for being my 2nd shooter, and to Nicole Caleo, again as my trusty assistant. I'm looking forward to a much needed rest. My next wedding isn't until February 2011!!
Here are some of Alison/Adam's vendors for the day!!

Ceremony/Reception-Holiday Inn Six Flags
Florist - Always in Bloom
Dresses -

David's Bridal


Tuxes -

Men's Wearhouse


Photobooth - Gateway

Photo Booth


Clutches - etsy shop Murwati
Headband - etsy shop UntamedPetals
Cake - Knodel's Bakery
Hair - Mary Sturdevant at Abra-ca-Dabra salon